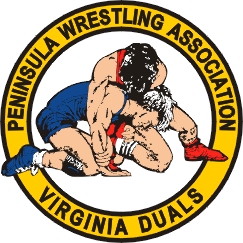 2018 Virginia Duals – Hotel Information
Embassy Suites
Hotel Group Reservation Procedure – Thursday, January 11, 2018 to Sunday, January 14, 2018
Group rate: $169.00 per suite, per night plus taxes
Room Type: King Bedded Suites only
Stay Pattern: Required to stay 1/11/18 to 1/14/18
Cancellation Policy: May cancel reserved reservations without financial loss if cancelled by Tuesday, December 26, 2017 before 5pm eastern standard time. Please ask for a cancelation number if canceling prior to date listed.
Advanced Payment: All three nights for each reservation will be charged to the credit card on file for each reservation on Wednesday, December 27, 2017 unless you have sent payment prior to this date.
Reservation Time Frame: These king rooms will be available to reserve, based on availability, up until Monday, December 11, 2017. This block is subject to close once reservations have been filled. 
Group Rate Procedure for Reservations:
Reservations by phone:
Call 1-800-362-2779 for 24hrs a day/ 7 days a week (group name is: VIRGINIA DUALS WRESTLING)
(OR)
Call 757-827-8200 (ask for in-house reservations) Monday – Friday 9am to 4:30pm (group name is: VIRGINIA DUALS WRESTLING) 
Reservations by website:
www.hamptonroadsconventioncenter.embassysuites.com  "enter" arrival & departure dates, number of rooms and occupants "click" add special rate codes for group rate "enter" under  Group code: VDW then scroll down to the blue "CHECK ROOMS & RATES" button and "click" this button. Complete your reservation information. 
For Ten or more rooms contact Brandon Ball at Embassy Suites Hotel:
For group reservations of ten (10) rooms per night or more, with the Three (3) night requirement – 1/11/18 to 1/14/18, please contact Brandon Ball at Embassy Suites Hotel at (757) 213-8926 or by email at brandon.ball@JQH.com. Group would need to sign a contract and guarantee performance of 90% of the room contracted.
---
Courtyard Marriott
1917 Coliseum Drive
Hampton, VA 23666
757-838-3300
800-321-2211
On-Line:  Book your group rate for Virginia Duals 2018
Call-In:  Ask for Virginia Duals block
Rate:  $104
Reserve by: December 20, 2017
Crowne Plaza Hampton Marina
700 Settlers Landing Road
Hampton, VA 23669
Contact: Julie Fountain
757-727-8912
julie.fountain@cphamptonmarina.com
Group Code:  VA Duals
Rate:  $92.00
Reserve by:  January 2, 2018
Hampton Inn
3101 Coliseum Drive
Hampton, VA 23666
757-838-1400
On-Line:  http://hamptoninn.hilton.com/en/hp/groups/personalized/O/ORFHAHX-VDD-20180111/index.jhtml?WT.mc_id=POG
Group Code:  Virginia Duals
Rate:  $99 (King) $109 (Double – Queens)
Reserve by December 20, 2017
Hilton Garden Inn
1999 Power Plant Parkway
Hampton, VA 23666
757-310-6323
888-236-2427
Group Code:  Virginia Duals
Rate:  $129
Reserve by December 12, 2017 
Holiday Inn Express
1813 West Mercury Blvd.
Hampton, VA 23666
757-838-8484 (Ask for Sales Office)
Group Code:  VAD
Group Name:  VA Duals
Rate:  $114
Reserve by December 11, 2017
Quality Inn
1809 West Mercury Blvd.
Hampton, VA 23666
757-838-5011
Group Code:  2018 Virginia Duals
Rate:  $89.99
Reserve by December 11, 2017
SpringHill Suites
1997 Power Plant Parkway
Hampton, VA 23666
757-310-6333
Group Code:  Virginia Duals
Rate $129
Reserve by December 12, 2017